From one end of the country to the other…
My speaking/reading schedule has been quite intense of late and shows no sign of slackening as we head into the homestretch and the release of my third novel, Up and Down, in September. A week or so ago I started in Toronto on Monday, headed to Woodstock, New Brunswick on Tuesday, back to Toronto for Thursday, and then finished the week in Vancouver Island. Throw in a little fog and a wildcat walkout by baggage handlers and you've got the makings of one seriously busy week. Then this week, it was Brantford, Ontario for a great evening at their public library. Here's a quick look back…
Woodstock Reads What Canada Reads
Last summer I was contacted by the board of the public library in Woodstock, New Brunswick. The Best Laid Plans had been chosen as their first town-wide reading program selection. They dubbed it Woodstock Reads What Canada Reads. I was thrilled and of course agreed to come out to Woodstock. Well, last week it was time to fly. My flight to New Brunswick was delayed early Tuesday morning by fog. I was to take off at 7:30 but wasn't airborne until 11:30. This was quite unfortunate as it meant that the school visits I was to make in Woodstock had to be cancelled. I felt terrible about this as school buses were all arranged so that students from two schools could take part. Just my luck that a rare fog appearance in Toronto scuppered my school appearance in New Brunswick. I eventually made to New Brunswick's first town where my hosts toured me through the beautifully restored Connell House, historical home to one of Woodstock's founding fathers. I then had dinner in Woodstock's beautiful L. P. Fisher Public Library, built in 1914, with the library's board of directors. Lovely people and great food, too.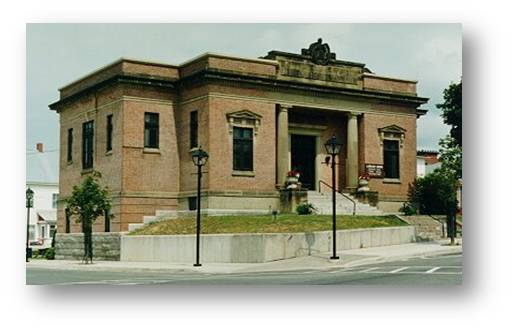 After dinner it was off to my talk and reading to an enthusiastic crowd waiting at the Best Western Hotel and Conference Centre. The local mayor and MP were both there to add a little lustre to the evening. We had a great time. My sincere thanks to Catherine Sutherland, Deputy Mayor, and her team for organizing a great event. I look forward to coming back to Woodstock sometime in the future. I managed to do a Skype video call with one of the student groups on Friday to try to make up for the fog-induced cancellation the previous week.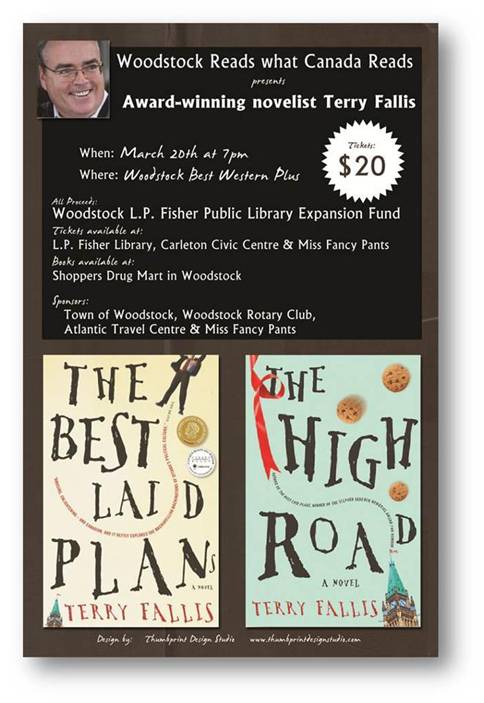 Words on the Water, Campbell River, Vancouver Island, BC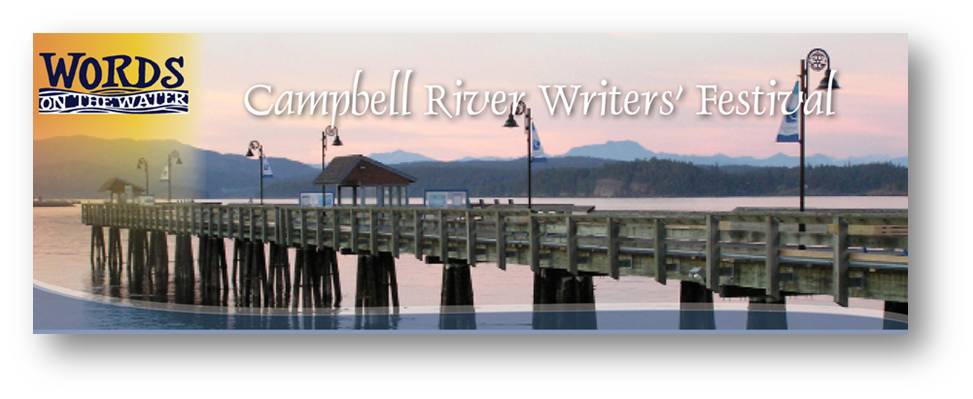 On Friday of last week, I boarded another plane, this time bound for Vancouver. It wasn't the fog that delayed my takeoff but a wildcat walkout by baggage handlers at Toronto's Pearson Airport. Instead of an 8:30 departure, we changed gates three times and lifted off the runway at 10:30ish. This meant that I missed my connection to Campbell River on Vancouver Island. Thankfully there was a later flight. I landed and made it to the hotel with an hour to spare before the opening of the Words on the Water festival. There were some wonderful writers at the festival. I met and spent some time with the very talented Gurjinder Basran whose first novel, Everything was Good-bye picked up a BC Book Prize among many other accolades and honours. My friend, Robert Wiersema was also there. He's a wonderful writer and reviewer. I think he's the funniest writer I know who seldom writes funny stuff in his books. It was great to hang out with him, as usual. As well, the funny, funny writer Susan Juby was also there talking about her hilarious novel, The Woefield Poultry Collective. The festival was very well attended and everyone, yours truly included, seemed to have a great time. For the Literary Cabaret on the Saturday night, Robert Wiersema and I read Robert Service's amazing poem, The Cremation of Sam McGee. Lots of laughs. Thanks to Trevor McMonagle and his organizing crew for a memorable weekend in beautiful Campbell River.
Brantford Public Library Reading
This past Thursday, I was off to Brantford, Ontario for a talk and reading at the Brantford Public Library. Brantford will always have a special place in my heart. The day The Best Laid Plans won Canada Reads, I travelled to Brantford for an evening talk to a McMaster University Alumni group. I'll never forget that day, or my trip to Brantford that night. Last week's visit was just as memorable. Paula Thomlinson and her colleagues at the library had done a great job promoting the event so it was a packed room. It was nice to speak with former Liberal MPP and Brantford Mayor Dave Neumann whom I'd not seen for many years. I spoke, read, answered questions and signed books. Thanks Brantford!