Summer Leacock Festival Reading
This past Friday night I joined two great Canadian writers for a public reading as part of the Leacock Summer Festival in Orillia.  The festival is Ontario's largest summer literary gathering and this year's edition was another great success.
The Friday night program was held at Swanmore Hall, just steps away from the home of Stephen Leacock.  Scott Gardiner, who was shortlisted for this year's Leacock Medal, opened the program with a reading from his hilarious political satire, King John.  This is a wonderful book made even better by Scott's outstanding reading.  Reading aloud is not easy but when it's done well, the story comes alive.  Next on the bill was Drew Hayden Taylor, a very funny aboriginal writer who certainly knows how to handle himself at the microphone.  He had the audience in stitches reading from a selection of his works including his newest book Me Sexy.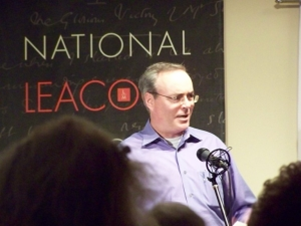 I spoke third, which was a little intimidating given how much laughter Scott and Drew triggered.  The capacity crowd seemed to enjoy the four brief selections I read.  All in all, it was a great evening.  Thanks to Fred Addis and Bruce Meyer, the festival organizers, for inviting me.  This was a good warm up for the many other speaking and reading gigs that are being lined up for me in the fall when TBLP is re-released by McClelland & Stewart.