Speaking gig round-up
I've been on the road quite a bit lately doing readings and talks. As I've noted before in this space, I truly enjoy getting out and meeting readers, talking about my novels and sharing my rather unexpected publishing journey. My dance card continues to be filled nearly to capacity. It seems that as one gig is done, another is put in the calendar. No complaints on my end.  So here's a quick rundown of the last week:
Thurday, June 23rd, Creemore, Ontario
What a great time I had in Creemore speaking to a group of 100 or so. It's a lovely, picturesque, and arty little town. Michele and Jennifer from the Clearview Public Library met me at an amazing restaurant called Chez Michel. We had a great dinner and then headed over to the Station on the Green. The kind folks from Curiosity House Books were on hand to sell The Best Laid Plans and The High Road. I gave my talk and then the audience fired some very thoughtful questions my way. Then I signed books for a while and got back on the road for the drive home. My thanks to the Clearview Public Library for inviting me to come. I had a great time.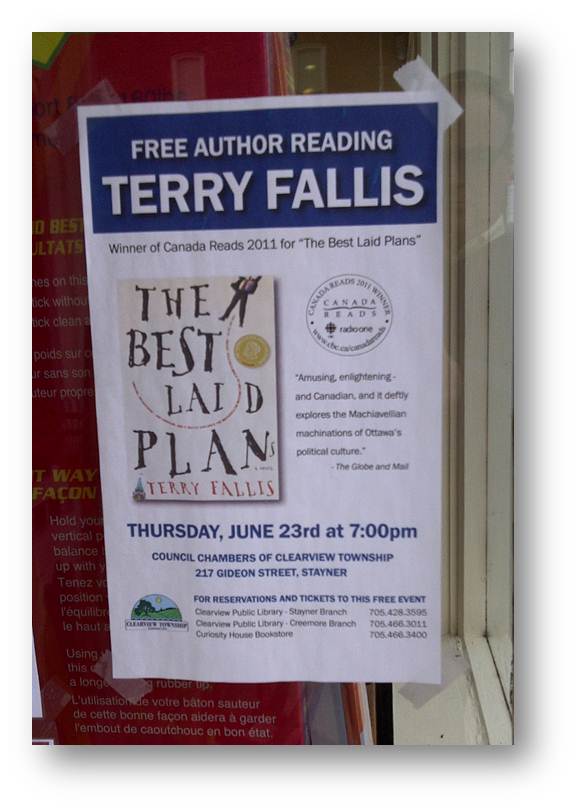 Saturday, June 25th, Bayfield Writers' Festival, Bayfield Ontario
I had a blast this past Saturday in the beautiful town of Bayfield, Ontario on the shores of Lake Huron. In the afternoon, I read at the Bayfield Writers' Festival in the Town Hall alongside some wonderful writers. The event was organized by Mary Brown of the lovely Village Bookshop. Joining me were Anne Perdue, author of the short story collection with the very provocative name, I'm a Registered Nurse, Not a Whore, Emma Ruby-Sachs, author of The Water Man's Daughter, Sarita Mandanna, author of Tiger Hills, and an excellent local children's poet, Hilary Gillespie. After the reading, we all had dinner together. One of the many benefits of participating in readings is the opportunity to meet other writers. These were all very nice folks whom I hope to see again on the circuit. Here's the Town Hall just before we headed up to the stage.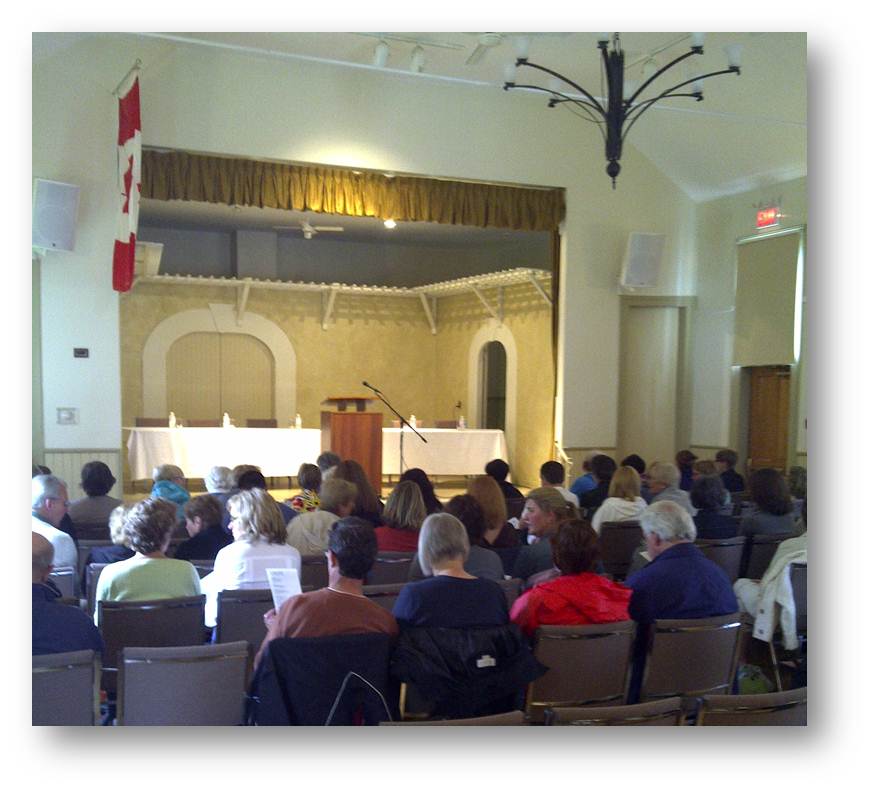 And here's a shot of the poster promoting the festival that Mary asked us all to sign for the store.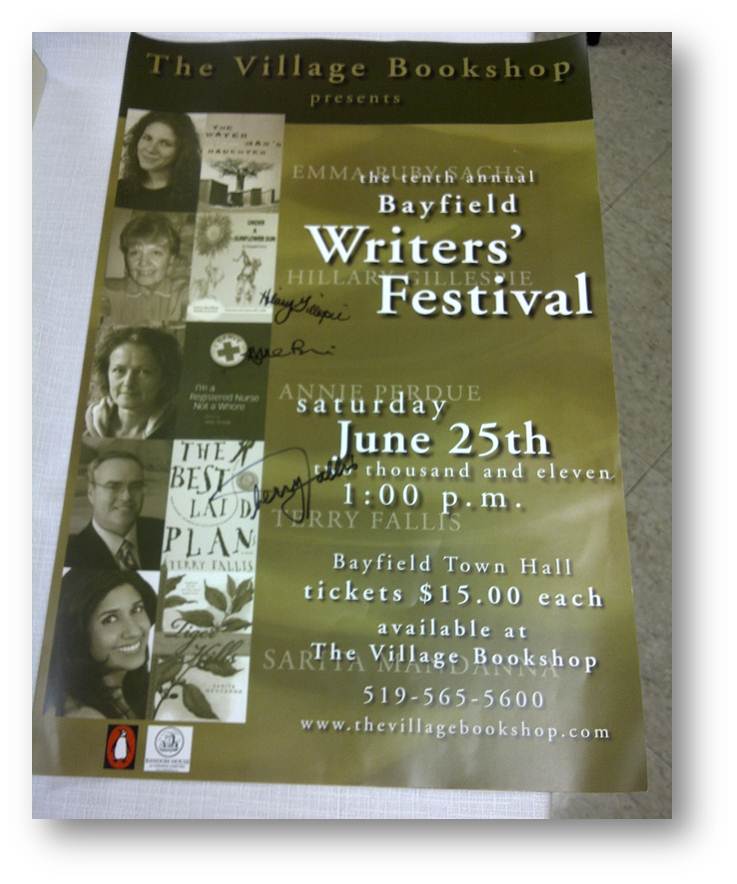 The next morning, I worked on novel #3 before enjoying a wonderful brunch in the Brentwood on the Beach B&B. At the appointed hour, I spoke to 50 or so attendees about my writing and answered questions. I thoroughly enjoyed myself and hope to make a return visit sometime.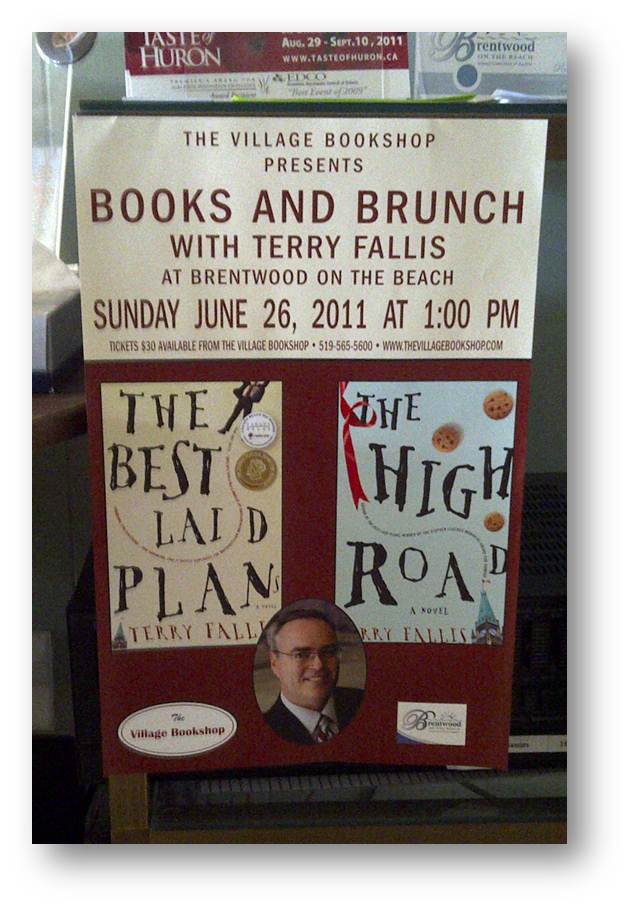 Monday, June 27, McMaster Engineering Alumni event, Toronto
Last night, I spoke at a McMaster Engineering Alumni gathering in Toronto. I have an engineering degree from McMaster even though I've never worked professionally as an engineer. My university experience had a considerable impact on the course of my life so I was very happy to be there. I gave a talk about how my engineering education shaped my writing, a topic I haven't spoken on before. It seemed to go reasonably well (nobody nodded off or walked out in the middle) and I had a great time meeting some newly-minted engineers and some old friends as well.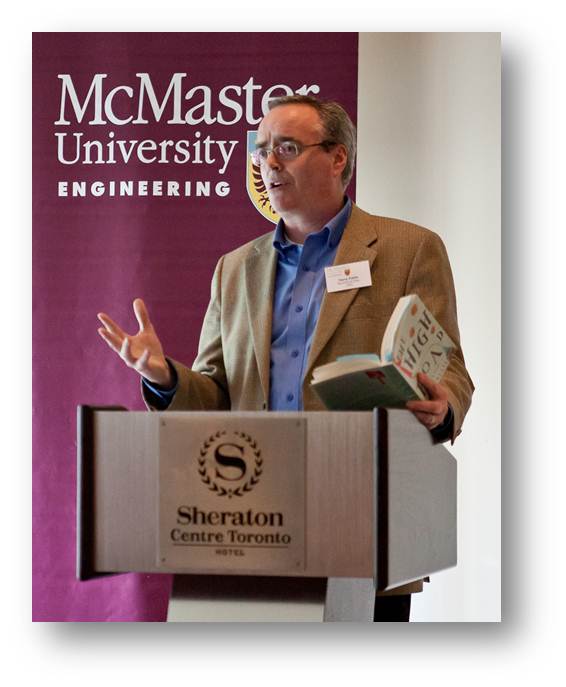 It's certainly been a busy few months, and last week was no exception. There are many more speaking gigs coming up. It's a good thing I enjoy it. Hope to see you at one of them…