Writers I revere: Stephen Fry
As threatened on this blog earlier, here's the first in a periodic series of posts on a handful of my favourite writers.  They are writers who have made me laugh, made me think, made me happy, and in some cases, made me write.
The living writer with whom I would most like to have dinner is Stephen Fry.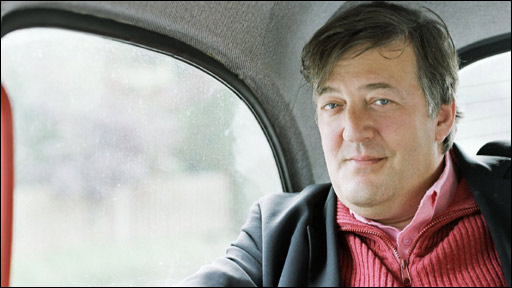 You may be forgiven for thinking that Stephen Fry seems an odd choice to include among the writers who are important to me.  After all, most in our TV-addled ranks would know Fry as an actor or comedian or even improv artist.  He is all of those.  He was a TV star in England with his best friend Hugh Laurie when they were both still in their twenties.  A Bit of Fry and Laurie, Blackadder, and Jeeves and Wooster made Stephen Fry a household name and a national treasure in England.  He also earned critical and popular acclaim for his portrayal of Oscar Wilde, a hero of Fry's, in the 1997 film, Wilde.
I won't write his biography here but his story is worth knowing.  Fry's memoir, Moab is My Washpot, is a terrific read covering the first twenty or so years of his life.
But to me, Stephen Fry is a polymath in the true sense of the word.  He is a man of "varied learning" as the Pocket Oxford defines polymath.  In addition to his prowess as an entertainer, he's an intellectual with a first class mind and a brilliant writer to boot.  By all accounts, and I assume many of them are true, he's also a very, very nice bloke.
I confess that I picked up his first novel, The Liar, with considerable trepidation.  I knew little of Fry, and what views I had were shaped by the silver screen and my TV.  A comic actor who tries his hand at writing fiction?  Seems a long shot.  The Liar was published in 1991 when Fry was 34.
It took about half a chapter for me to decide that Fry is not your run-of-the-mill actor who levers his fame to publish a bad novel.  The Liar is a great read that showcases Fry's considerable intellectual and writerly gifts.  His reverence for the language is on display from page one.  His humour alternately burbles and bursts on virtually every page, always striking the right balance.  I thoroughly enjoyed this debut novel and was struck by its depth and substance, even as I chortled and guffawed my way through it.  This is no lightweight romp. (A deep romp perhaps?)
I devoured his next two novels, The Hippopotamus (1994), and Making History (1996) and enjoyed them just as much (although I'd have to say that The Hippopotamus is my favourite).  The blend of humour, intellect, and beautiful writing pushed all of my buttons.  And all of this from a writer the world knows primarily as a sketch comedy artist.  Quite a feat in my view.
His most recent novel (please let there be more), curiously entitled The Stars' Tennis Balls (2000) (and eventually retitled in North America as Revenge) didn't quite do it for me as his earlier books had.  There is a darker undercurrent that isn't quite balanced by the humour.  But I'm quibbling.  It's still a great read.
Since publishing his first memoir and these four novels, Fry, like the true Renaissance man and public intellectual that he is, published some nonfiction works including books on classical music, poetry, the speckled bear (?) and his whirlwind visit to every state in the U.S. He has also lent his wonderful voice to the Harry Potter audio books and has continued with his television and movie work.  I'm exhausted just thinking about it.
I doubt his writing will be every readers cup of tea, but I have loved his books.  I have tremendous respect for people who succeed in many different fields of endeavour.  Stephen Fry is in very select company as an extraordinarily versatile and gifted artist.
You'll laugh yourself silly while you shake your head in wonder at his prose and his mind.