Sony e-Reader update: Reading is reading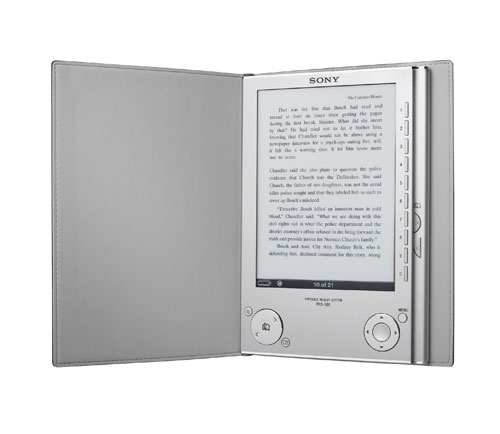 Back in June, I wrote about my purchase of a Sony e-Reader.  Now, six months later, I thought it was time I reported back.  Let's get one thing straight right off the top.  I love books.  I've loved them for a long time and can't imagine not loving them for my remaining days.  I enjoy the tactile experience of holding, yes just holding, a book.  It satisfies a deep need I seem to have.  But reading is what it's all about in the end.  I'll never stop buying, collecting, and reading books.  But I was curious about whether the act of reading was altered by replacing the traditional book with a slim and sleek electronic device.
I've now read a few books on my Sony e-Reader and… I love it. Yep, I just love it.  I sped through John Irving's Until I Find You on the e-Reader with absolutely no compromise in the reading experience.  It turns out that it's the writing that keeps us turning the pages, or in this case, pressing a button.  Eventually, I simply lost track of the medium and fell headlong into the message.  I just forgot that the story was being told, not through hundreds of pages turned one by one, but on an electronic screen refreshing with each page.
The e-ink techonology looks surprisingly like words on paper.  When I really analyze why I enjoy the experience of reading on this device, I think it has something to do with the convenience and the ease with which you turn the pages.  When I'm reading a conventional book in bed, and I know I'm trifling here, I have to hold the book at the right angle for my lamp, turning it slightly to catch the light depending on whether I'm on the left or right hand pages.  I've never really noticed that this has its minor physical inconveniences, albeit calibrated in very, very small increments.  And reading a heavy hardcover when you're nodding off can be downright dangerous.  But I noticed that these minor inconveniences disappear when using the e-Reader.  It's very light and comfortable in my hand.  I can hold the e-Reader in the perfect viewing position and whenever I finish a page, I move nothing except my finger on a conveniently placed button that "turns" the page.  You can fly through the chapters just by pushing a button.  I know what you're thinking.  Could I be any lazier?  But I'm telling you that the flow of my reading was enhanced with the e-Reader.
With an SD card in it, I can actually carry a couple of thousand books in my e-Reader.  An entire lifetime of reading in a nine ounce package the size of a very slim novella.  No more carrying an extra suitcase on vacation packed with dozens of books.
I'm still buying books.  But using the e-Reader has reaffirmed that reading is reading, whether on paper or on a screen that looks like paper.  John Irving is still John Irving on the e-Reader.