Reading at the Elora Writers' Festival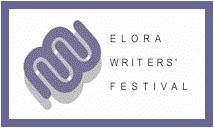 I'm already looking forward to this great event in early June. I've been invited to read at the Elora Writers' Festival along with an amazing line-up of authors. I'm definitely punching above my weight class among these wonderful writers. I'll be on the program with this year's Giller winner, Linden MacIntyre, 1999 Giller winner Bonnie Burnard, Ray Robertson, Pasha Malla, and poet Barry Dempster. I've really come to like doing these readings and I always enjoy spending time with, and learning from, other, more experienced writers. So why not make the short drive west of Toronto to the picturesque town of Elora and attend the festival on the afternoon of June 6th? Elora has a long history of supporting the arts and I'm very pleased to have been invited.
Here's the article from the Waterloo Record announcing the this year's line-up.