Fond reflections on One Book, One Community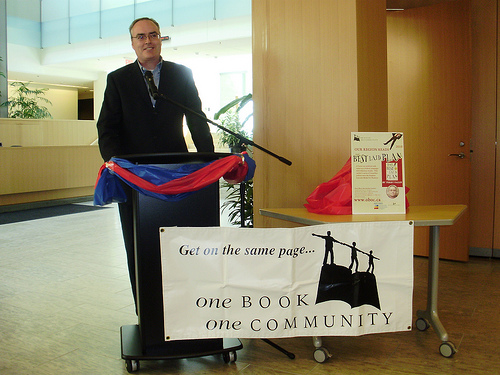 About a month has passed since my whirlwind week in the Waterloo Region for the One Book, One Community celebrations, and it's high time I wrote about it. It was such a thrill to have had The Best Laid Plans selected for OBOC this year, particularly in view of the amazing authors who preceded me, including Alistair MacLeod, Joseph Boyden, Lawrence Hill, Jane Urquhart, Nino Ricci, and Robert Sawyer. I almost felt like I was trespassing in such literary company. In addition to the launch news conference back in April, and the wonderful June Saturday bus tour organized by The New Quarterly, my time in the region in late September was, quite simply, amazing.
It began on a Monday evening at my good friend and staunch supporter Peter Nosalik's beautiful home for a great gathering of book clubs from the Waterloo Region, along with our Toronto book club. Over 100 book clubbers enjoyed a perfect evening. I met so many wonderful people, read an excerpt from the novel, signed books until my pen ran dry, and ate till I could eat no more. Peter was an extraordinary host and I couldn't be more grateful for all his efforts to make it a memorable way to kick off the OBOC week.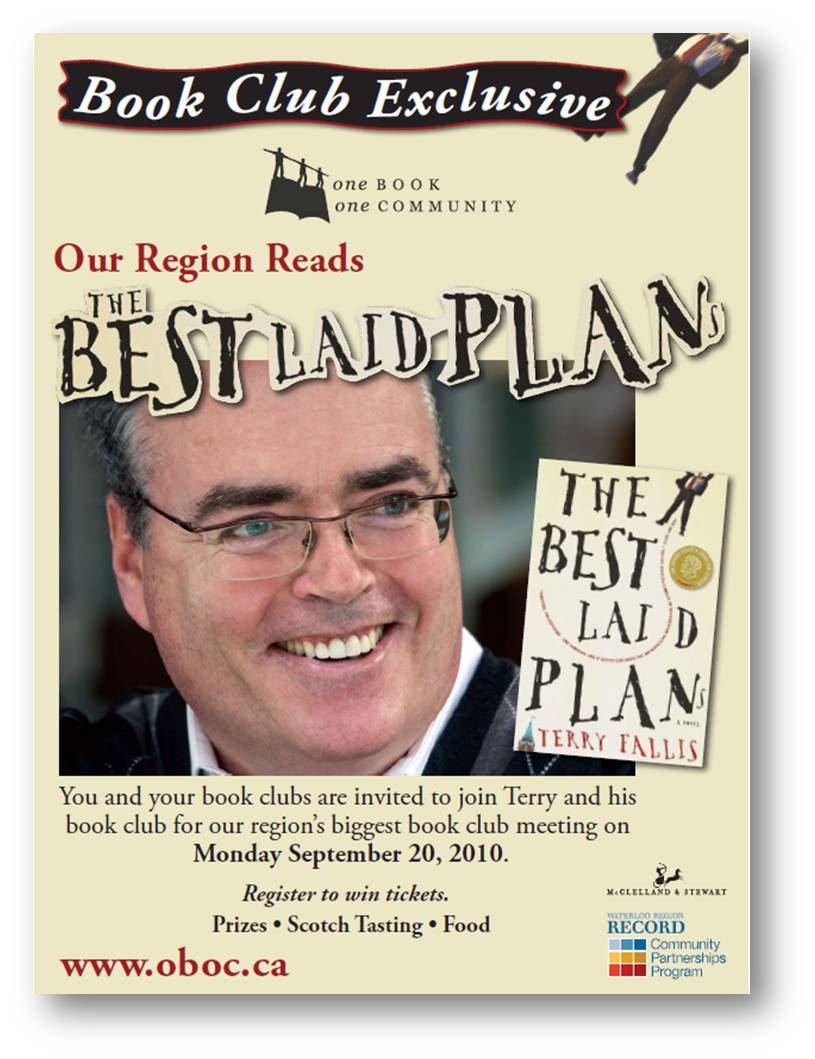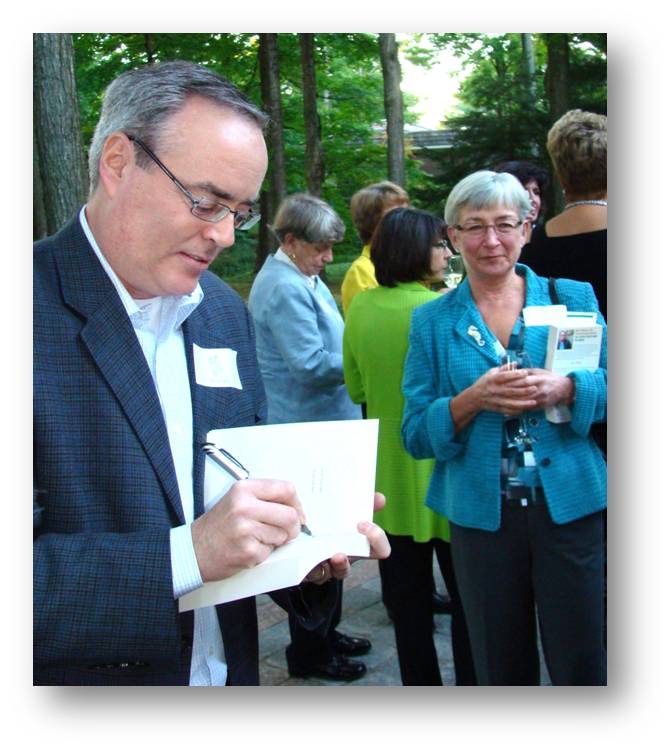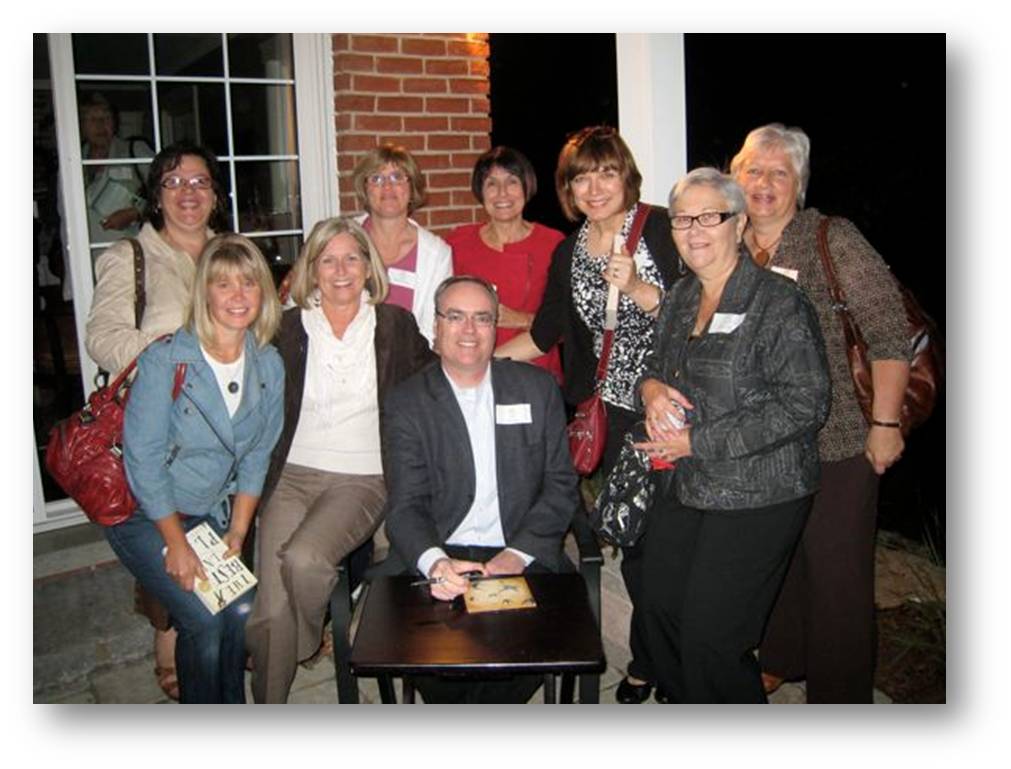 The next day was chock full of events including a talk at The Waterloo Record (big OBOC supporters!), a few media interviews, and the evening reading in the Rotunda of Kitchener City Hall. There was a large crowd and my talk and reading seemed to go well. I then signed books and fell into bed at the wonderful Walper Terrace Hotel, where they actually gave me a corner suite. Day two was just as packed and started with a TV interview. Then it was off to Elmira for a talk and reading at the local high school where Malcolm Gladwell is among the illustrious alumni. Then we drove to Waterloo for the evening reading attended by some 350 people, at First United Church. I was interviewed on stage by the Arts Editor of the Waterloo Record, Robert Reid, who posed excellent questions that were undoubtedly more thoughtful than the answers that followed. Then I read an excerpt or two, and the floor was opened for questions. The highlight of the night was when an older woman in the front row asked if I were writing a third novel. I replied that I was in fact working on a third, but that it was not a follow-on to The Best Laid Plans and The High Road. I then noted my intention to return to Angus and Daniel in the future, observing that they weren't quite done with me yet. In a booming voice, the older woman shouted "Well don't wait too long, I haven't many years left!" I, and most of the audience, collapsed in laughter. It was a priceless moment. I signed books afterwards and chatted with everyone. A terrific night.
Like the first two days, Day three dawned with ideal weather. First, we visited Sir John A. Macdonald High School where I addressed a group of about 150 students. They asked great questions and made we feel very welcome. I was given a school scarf that I'll wear with pride when the snow flies. That night, I spoke and read in Cambridge at the University of Waterloo 's School of Architecture. Again, a large, warm and welcoming crowd turned up with excellent questions. Lots of books were signed, and l spoke to many in the audience. A great night.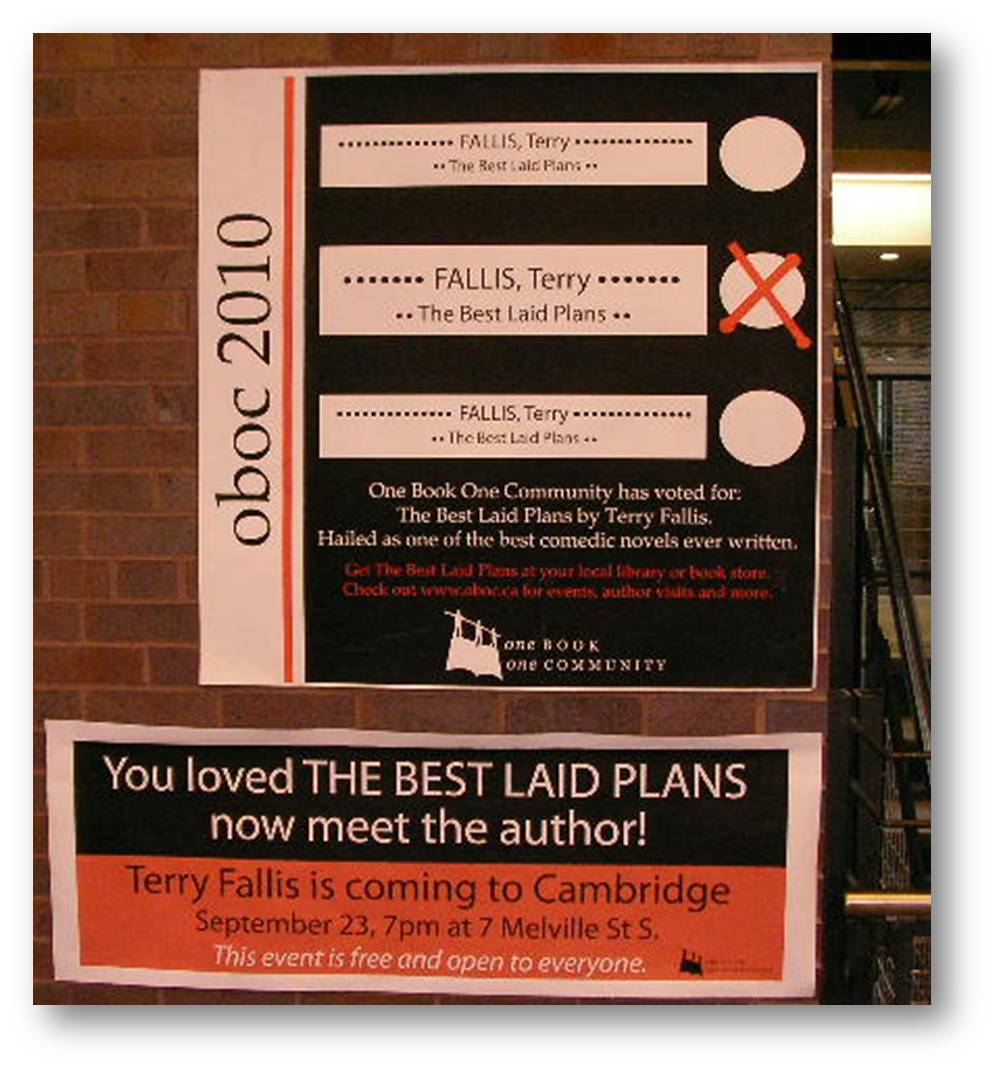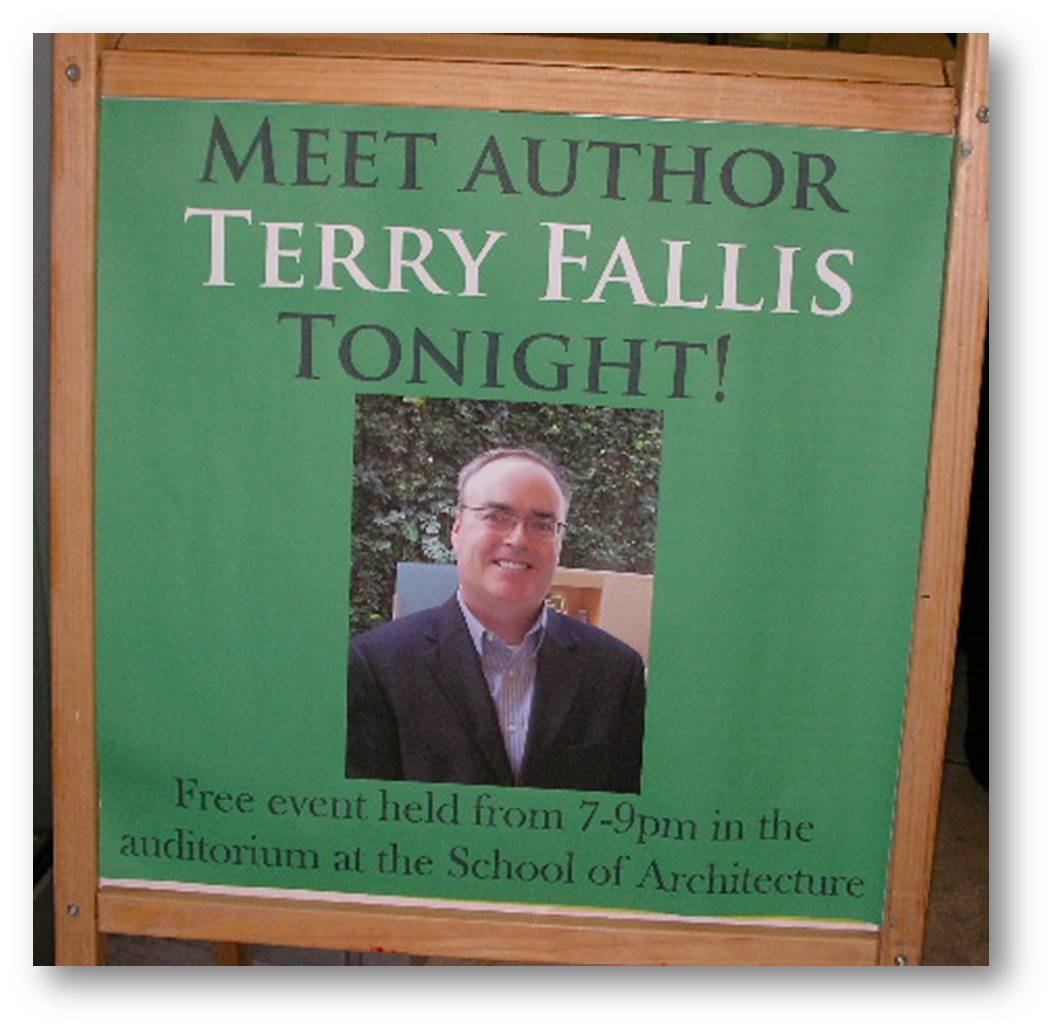 I would be remiss were I not to comment on the utterly amazing meals I enjoyed during OBOC. If we weren't driving to a media interview, reading, or high school event, we were almost certainly sitting in a great restaurant. I was treated royally and enjoyed outstanding meals throughout the week. I likely gained ten pounds! The food was only surpassed by the company.
My sincere thanks to everyone who worked so hard to make OBOC happen. I am so grateful. The list is long, and I know I'll forget someone (my apologies!), but my thanks go to Katherine, Sharron, Sheila, Peter, Rebecca, Liana, Christine, Bronwyn, Bruce, Betty Anne, Angela, and many others who made OBOC such a memorable week for me. And of course the booksellers and sponsors are so important to making it all happen. So my thanks to the Waterloo Region Record, the Canada Council for the Arts, the bookstores in the region, and all of the public libraries that worked so hard. It was truly an honour to be part of a program that fosters a love of the written word. It is a noble and important cause and I was just thrilled to be involved.  You all made me really feel like I an honourary citizen of the Waterloo Region. Thank you all so much.