One Book, One Community = one thrilled writer
Waterloo Region chooses The Best Laid Plans as its 2010 selection for One Book, One Community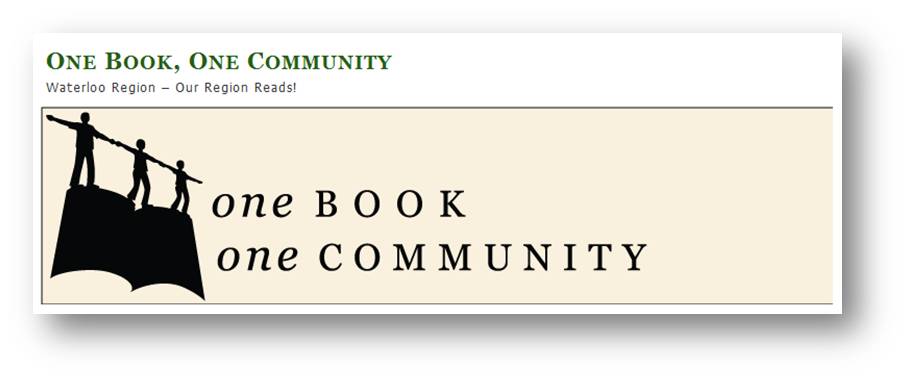 My cup runneth over. For the last two years, after what I have come to call my "Leacock shock," I've noted on several occasions that I surely have exhausted my lifetime supply of good fortune. Clearly, I was wrong. Learning that The Best Laid Plans, my first novel, has been chosen as the Waterloo Region's One Book, One Community selection for 2010, has left me feeling elated and humbled at one and the same time. Okay, with this glorious news, surely now my lucky streak has come to an end. It must have. I'll certainly be very careful crossing the street in the coming months. What a thrill this is. I am extraordinarily grateful for this unexpected honour. When I see the names of the other distinguished writers who have gone before me in OBOC's eight year history, including Alistair MacLeod, Jane Urquhart, Nino Ricci, Joseph Boyden, and Lawrence Hill, you can imagine how that makes a rookie writer feel. I see my name on that list, and it immediately brings to mind the lyrics of that classic Sesame Street song, "One of these things is not like the others. One of these things just doesn't belong." etc., etc. I hummed that tune all the way home from the Leacock luncheon two years ago, and I'll be humming it on the drive down to Cambridge for the OBOC announcement. In short, I am floored.  Of course, as a new writer, ever hopeful that great swaths of the population will somehow find, buy, and read my book, being the 2010 OBOC selection is a very big deal in my fledgling writerly life. I'm told that an estimated 17,000 people read Larry Hill's great work, The Book of Negroes, last year. While I know that doesn't translate into 17,000 sales (I'm a big supporter of the public library!), needless to say, my publisher is very excited at the prospect of an unanticipated spike in demand for The Best Laid Plans in the local bookstores and library branches of the Greater Waterloo Area.
But this wonderful news brings an added measure of pleasure and satisfaction. You see, books and reading have been among the greatest joys in my life. I've collected funny novels for more than 20 years and have amassed a modest but personally fulfilling library, including every Leacock-winning book since the award was inaugurated in 1947. Seriously, I don't know where I would be, or even who I would be, were I not such an ardent reader. So, the idea that my novel might play some minor role in either rekindling a lapsed reader's love of books, or sparking a newfound joy in the written word in one who doesn't read much at all, leaves me feeling warm all over. There are many noble community causes, but encouraging reading has got to be right up there near the top. That, to me, is the real triumph of One Book, One Community, and why I'm so thankful to be a part of it.
For this unique recognition, I can only offer my deepest gratitude, and as much of me as you can bear during the OBOC celebrations.  I'll be there in April, June, and in September, and am already scheduled to read at Word on the Street in Kitchener. With the sequel to The Best Laid Plans coming out in September, called The High Road, my dance card will be quite full, but I will always find room in it for visits to the Waterloo Region. Who knows, I may even move there! I am just so pleased, surprised, and honoured that I think I'm about to break down in a fit of uncontrolled reading. I'm in your hands and at your service.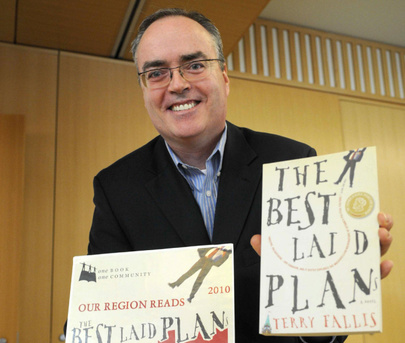 Here's the shot from the Waterloo Region Record from the launch held this morning at Cambridge City Hall. It was a great day.