A great TBLP day in Waterloo with TNQ & OBOC
Last Sunday I spent an amazing day in Waterloo participating in a series of events organized by Bruce Johnstone in conjunction with the respected literary journal, The New Quarterly, and One Book, One Community. I had a blast and it's always wonderful to spend time with book lovers. They're my kind of people. My deep appreciation to Bruce, Kim, Ed, David, Karen, James and everyone else who had a hand in making this such an enjoyable way to spend a Sunday. I look forward to seeing you all in September at the OBOC events.
Here's a shot of me reading a few passages selected by Ed Jernigan as part of his fascinating talk on how we educate engineers.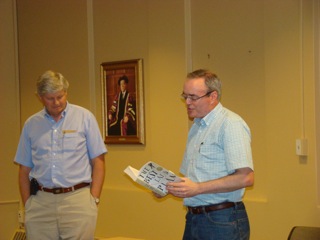 Here's the report of the primary orgnaizer, Bruce Johnstone, as presented on TNQ's The  Literary Type blog:
One Book, One Best Laid Plan Bus Tour
Well, we laid out our best plans for this year's New Quarterly bus tour and, lo and behold, they worked! We were a small but engaged group of readers and political junkies who gathered on Saturday morning (19 June). The bus part of the tour was not  onerous this year as all stops were in Waterloo, which allowed us lots of time for  sessions throughout the day. Here's how things panned out.
Terry Fallis, author of The Best Laid Plans (TBLP), set off early from Toronto to join us for the day and was right on time and excited to meet some of his readers directly. We were a mixed group as usual and included a young man in Grade 10 who was already a fan of Terry's (he was a delight to have along). Our first stop was WLU's Paul Martin Centre where Dr. David Docherty, poli sci prof and frequent commentator on politics for CBC, greeted us. Terry was up first. He regaled the group with the story of his self-publishing adventure. It's a wonderful story of low expectations and unexpected serendipity, which resulted in a win of the Stephen Leacock Award for Humour, and the emergence of a new Author (capital A) on the Canadian letters scene. Terry told the tale with great humour and humility. It's the perfect Canadian story.
Next was Dr. Ed Jernigan, engineering prof  and visionary at the University of Waterloo. There's a theme that runs through TBLP about the educating of engineers. This is a topic with which Ed is very familiar. He titled his talk "Educating Engineers and The Educated Engineer". He was passionate in his critique that we are forcing students into finer and finer specializations (undergraduate programs these days offer as many as a thousand distinct majors) and not providing a broader education that better prepares them for the fast-changing future and a richer life (in many respects). Ed interwove his ideas with readings by Terry from TBLP that underlined his points. I think this session provided a whole other perspective on the role of the university and the dangers of over-specialization. Oh, and how naturally effective the Engineer as Renaissance man can be as a politician.
Our last speaker for the morning was David Docherty. David covered off current life in our political Mecca, Ottawa. I guess I shouldn't get too political myself here, so I'll just say that it was an excellent summary of some of the weaknesses on all sides of the political spectrum. It was noted that Terry will have no lack of fodder for future stories. During David's talk, Karen Redman, former Liberal Party Whip, joined us and added well-timed comments, including a list of specific statements that cannot be uttered in the House. These were very telling and funny.
Off to the Huether Hotel for vigorous conversations and terrific food in a private room. I don't know if we would have drowned out those watching the World Cup football matches, but it sounded like we could have been close.
We headed off to the University of Waterloo's Coutts Engineering Hall for the remainder of the afternoon, arriving at the session where planning only amounts to an idea. How it plays out is another matter. We had planned two debates following the format of the CBC Radio show The Debaters with its tag line of "mixing fact with funny." Terry was our moderator.
First up were David and Karen. They had chosen the proposition that Parliament is too small. David argued for the affirmative first and Karen countered. They did an amazing job, laying out some very funny perspectives. Current parliamentarians would have been  jealous. Terry polled the audience who judged each side by applause. Shockingly, it was a tie.
James Gordon, the politically active folksinger, had joined us at UW and was ready for the second debate with me as his opposition. James had proposed, "A majority of young people today still cling to the consumerist/oil-driven culture that their parent's generation fostered, and are reluctant to do the work necessary to make our society and our planet more sustainable." Yikes! James went first in the affirmative and had a beautifully laid out set of arguments delivered with great gusto. Terry came over to me , put his arm around my shoulder and said I could quit now. In the best political tradition I carried on, trying to build on some shaky ideas. Incredibly, my arguments held some sway and Terry announced another close tie. Methinks some other political shenanigans were going on!
The final part of the day was musical. James Gordon and his guitar delighted us with politically charged songs for the last hour of our day. He sang 'Kelvinator' from his Appliance Suite (wink, wink) and had the group singing along in the best folk tradition. He told the stories behind the songs and had very important ideas to express about our current challenges, especially in terms of the environment. I think he made a number of new fans.
Back to the bus and everyone dispersing. I think this was one time when a short bus trip was appreciated. It had been a day packed with ideas and conversation. Thanks to Terry, David, Ed, Karen, and James for making it such a delight. We'll see where the bus takes us next year…
Cheers,