Guess who's coming back?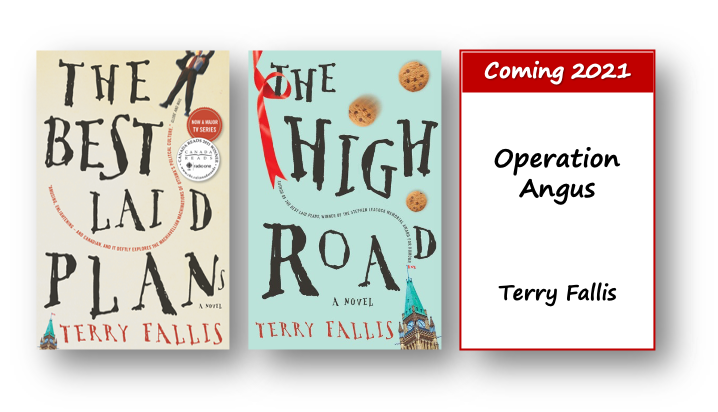 This has not been a closely-guarded secret. In fact, I've been mentioning it when asked at talks and readings for the last few months (back before the Corona Curse when I was still touring around). But I realized yesterday as I finished writing Chapter 1 of my eighth novel, that I've never formally noted it in this space. So here goes. The characters from my first two novels, The Best Laid Plans and The High Road, are returning in my next novel. That's right, Angus McLintock, Daniel Addison, Muriel Parkinson, Lindsay Dewar, Bradley Stanton, and some new players are back in Operation Angus, the tentative title. It should be out sometime in 2021, likely the late summer or fall.
After having given nearly 1,000 book talks and readings since 2008 when The Best Laid Plans was published by McClelland & Stewart, the most common questions I field from readers are various versions of "When will you write another Angus novel?" I never closed the door on another "Angus novel" but to be honest, I never really had the intention of returning to the principled Scottish engineering professor with the unruly hair and beard. Okay, "unruly" is a profound understatement. But as the years passed and more and more readers asked about it, the idea of a third novel about Angus, his trusty sidekick Daniel Addison, and the rest of the gang began to sound more appealing. Well, now is the time.
The tentative title is Operation Angus, though that could change before publication. (After all, Albatross, the title of my last novel was an eleventh hour change just before publication.) I'd like to have "Angus" in the title to make it perfectly clear for readers that the accidental MP is back. The story is less a political satire and much more of a comic thriller. Without going into too much detail, Angus, now a Cabinet minister, and Daniel, while in London, stumble upon information about an assassination plot against the President of Russia set to unfold while he is briefly in Ottawa for a meeting with our Prime Minister. For various reasons, the intelligence is not considered credible (except by Angus and Daniel) and so the RCMP and CSIS don't really pursue it. Angus and Daniel are left to uncover and thwart the assassination attempt pretty much on their own, supported by the quirky bunch around them. I should probably stop there.
If all goes to plan, I should have a completed manuscript ready for my editor at M&S, Bhavna Chauhan, by the end of August. Now back to Chapter 2.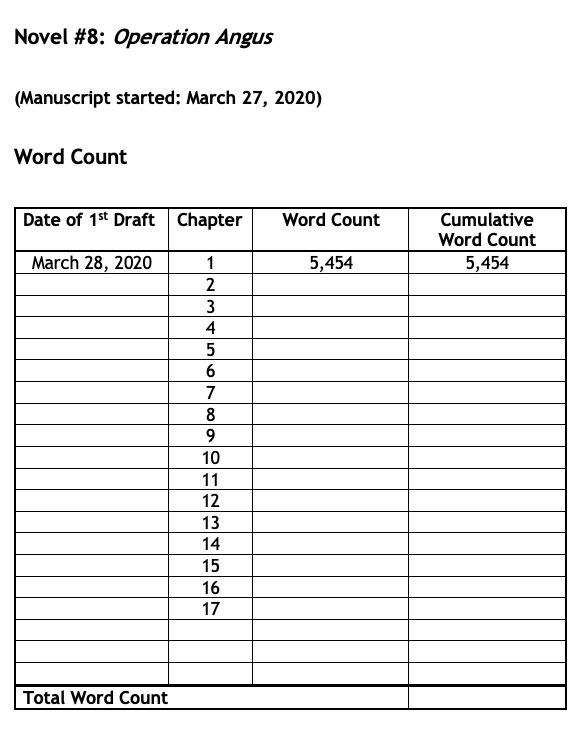 This is the simple table I use when writing my novels to help me keep track of word count and sometimes to make me feel good about my progress or daunted by what remains. Right now, it's more of the latter.