Amazon.com first to list TBLP!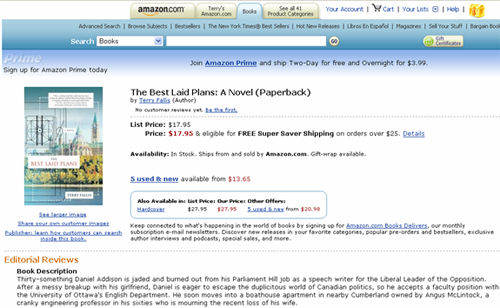 Sometime in the last 24 hours, Amazon.com has listed TBLP for sale. I immediately ordered a hardcover copy just to prime the sales pump. I confess that it feels very strange to see my novel listed on Amazon. Very cool. It's also listed on the Amazon sites for Canada, UK, Japan, France, and Germany. Only the US site seems able to accept orders right now. It will take a bit more time until the Amazon sites in other countries are able to process purchases. But we're out of the starting blocks!
I'll keep you posted as TBLP becomes available through the other leading online book retailers including Chapters-Indigo, Barnes and Noble, and the others.  As well, I hope to have news soon about the display and (I hope) sales of TBLP in at least one Indigo store.  Exciting times.