Yes, I know, I've been slow in getting back to the blog now that the final podcast episode has been uploaded. No excuses beyond a very busy schedule while still trying to shoehorn my day job around it all. But just to bring you up to date, the new novel, Up and Down, seems to be doing very well out of the gate. Two days after it was published, it debuted on the Globe and Mail Canadian Fiction Bestseller list at #7. It then went to #5 for the next two weeks, and was still hanging on at #8 this past weekend. As well, the Goodreads reviews seem to be very favourable. There have been a few formal reviews published in the Montreal Gazette, the Kitchener-Waterloo Record, and the Saint John Telegraph Journal, with more to come, we hope. Finally, a number of book bloggers have added their voices and reviewed the novel, here, here, and here. In the middle of it all, someone sent me the Canadian Booksellers Association's Canadian Fiction Bestseller List for the week Up and Down was published. What a shock when all three of my novels made the list. I grabbed a screen shot for posterity's sake as I doubt this triple play will ever recur for me.(And I was right. The next week, The High Road had slipped off the list.)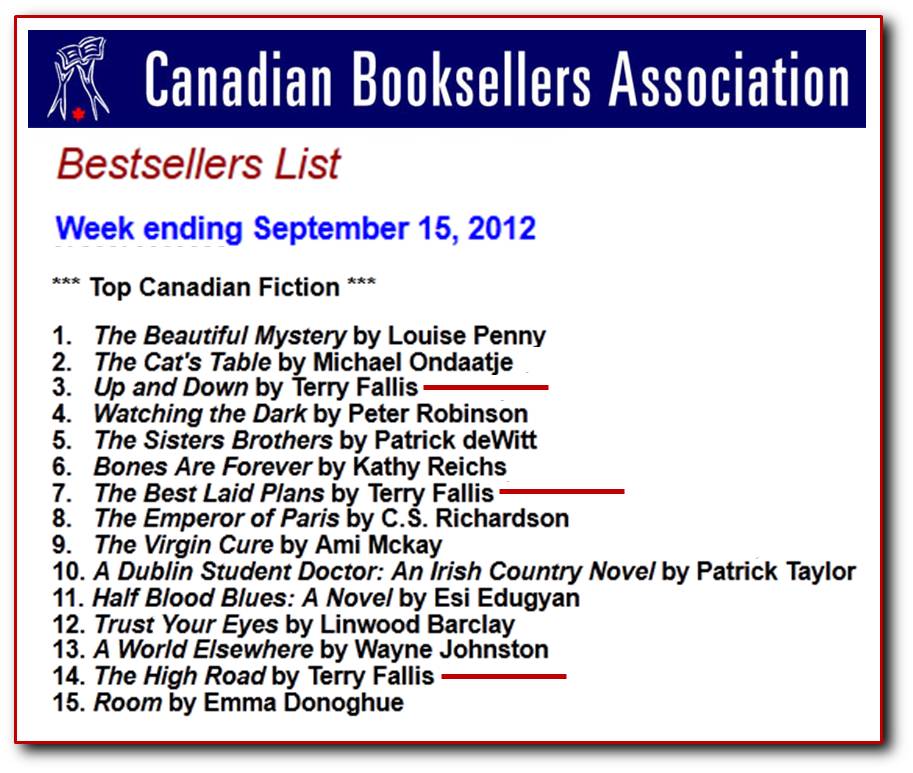 Needless to say, I'm thrilled with these early signs that Canadians are enjoying Up and Down.
I've been on the road quite a bit lately promoting Up and Down including quick visits to Collingwood, Ottawa, Huntsville, Barrie, Orillia, Grimsby, Hamilton, Georgetown, Creemore, London, Ajax, and Aurora, and of course, there have been lots of gigs in Toronto. Later this week, I'm off for a 12-day swing through western Canada with stops in Victoria, Calgary, Turner Valley, Banff, Edmonton, and St. Albert. This will be my longest literary road trip to date. (I'm blessed with a very supportive family!)
I'm still working out how best to talk about Up and Down, and which sections to read at events. But, it's coming. I figure I should have it sorted out by the time I'm back home towards the end of the month. What a happy whirlwind. Stay tuned and thanks so much for all the encouraging feedback. It means a lot to me, particularly with the new novel still so fresh on the shelves.