Evadne Macedo posts a Q&A with me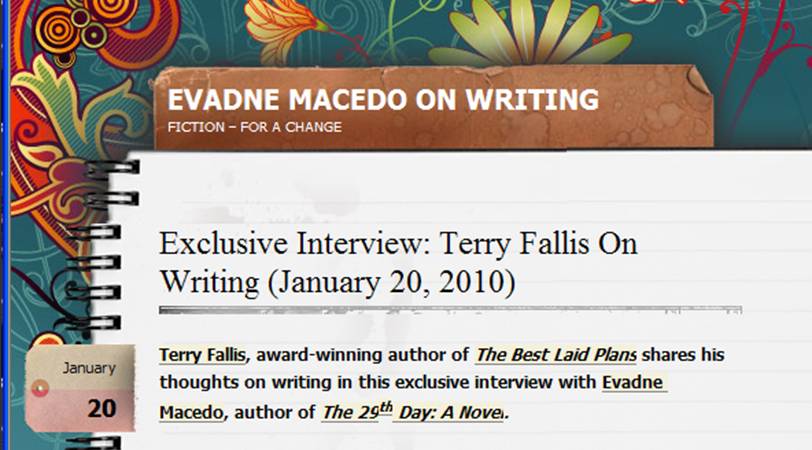 Last year, I did a reading at a public library in Toronto's Beach community. When it was over, a young woman approached to have her book signed and to ask some writing-related questions. Our conversation carried on out onto the street after the event, and I got to know Evadne Macedo, aspiring novelist and all-round lovely person. Evadne is a lawyer, and works by day at the Ontario Human Rights Commission. But she's also a writer. I read sections of an early draft of her first novel shortly after we met, and saw real promise in those pages. I loved the voice, matter-a-fact tone, and the quirky sense of humour. Well, in the intervening months, Evadne has been hard at work on her manuscript, while starting other writing projects as well, including a second novel, and a writing blog. I'm just now returning to her first novel manuscript, The 29th Day, now that she's happier with it (or as happy as writers can ever truly be with the state of their manuscript!). I'm looking forward to reading it and offering whatever help I can as she ventures into the publishing waters.
In the meantime, check out her writing blog where she's posted some interesting interviews with other writers. Evadne is very good at asking thoughtful, meaty, questions. I fear I may be less accomplished at the answering part.