My Maclean's piece about Trump's demise
The folks at Maclean's asked a few writers to speculate on how the Trump presidency might end. Here's what I came up with.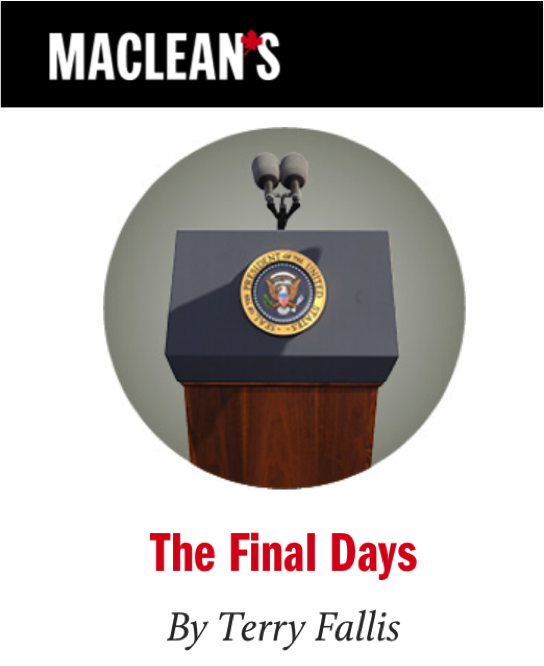 A two-time winner of the Stephen Leacock Medal for Humour, Terry Fallis is the award-winning author of six national bestsellers, including his latest novel, One Brother Shy, all published by McClelland & Stewart.
It's really not part of my job description, but no one else will do it. And there is a certain logic to it, I guess, given that I'm the one closest to him—physically, I mean. But I should earn even more danger pay than I already get for this little add-on to my duties.
"Mr. President," I whisper to the massive lump lying alone in a massive bed. His snoring sounds a lot like an industrial wood-chipper, or three. "Mr. President, it's time to get up."
"Whaaaaadaaaaayishit?"
"I'm sorry, Mr. President, I didn't quite get all of… um… any of that."
He rolled over in the dimness—the light in the room, I mean—and I saw poking from beneath the sheets a whoosh of golden hair that looked like the Statue of Liberty's torch, only brighter.
"What day ish it?"
"It's Thursday, Mr. President."
"No, no. You know what I mean," he croaked.
"Oh right, sorry Mr. President," I replied as I carefully calculated the right response in my head. "Um, Mr. President, it's Day 547, I mean, 547 of 1,460. So that leaves, um, 913 to go."
A small orangey fist emerged from the sheets and hammered the mattress four or five times accompanied by a noise that I wouldn't have believed was created by a human had I not been standing right next to him.
"Aaaarrrrrhhllooooooooowshhhh!"
"It'll go quickly, sir," I soothed, as I'd been instructed to by his fourth Chief of Staff. "But you really should get up. You've got a 10 a.m."
He pulled down the sheets, mercifully to just below his chin. His hair went madly off in all directions but I could see his shining eyes and a look of hope flashed on his face like a pulsing neon restaurant sign.
"Is it golf? Is it a 10 a.m. tee time?"
"Um, no sir. Sorry. I really wish it were, but you've got a meeting in the Oval with the Joint Chiefs of Staff."
"Frickelangeloooo! I hate those guys. I just can't. I won't. It's too much. That's it. It's over. My schedule is friggin' HUGE. It's crazy! Yesterday, there was a meeting booked for 9 in the morning. Nine! It's a disaster! You can't tell me that Obama started his day at 9 friggin' o'clock."
"Um, Mr. President, 9 is kind of early. but it isn't really that early. Most people, well at least some people, are at their jobs by 9."
"More fake news. You've been brainwashed. It's still friggin' dark at 9. Maybe I could golf at that hour, maybe, but working like a job, uh-uh, forget about it," he sighed. "Geez, I haven't worked this hard since…"
I waited as he studied the ceiling.
Still, I waited.
"Mr. President?"
"Shhhh! Hang on, I'm thinking," he said holding up his hand and scrunching up his face. "Hmmm, I guess I've never worked this hard. And it's gotta stop. Now."
"Yes sir."
"What's your name again?"
"Austin, sir. Trevor Austin."
"Are you my butler or something?" he asked.
"No sir. You fired him four weeks ago," I replied. "I'm Secret Service, on your personal detail."
"Well, you're fired," he said. "Wait, Secret Service? To protect me?"
"Yes sir."
"Okay, you can stay."
"Thank you, sir," I sighed. "So what do I tell the Joint Chiefs of Staff? I don't think you can quite get there for 10 o'clock."
"Tell them to 'make breakfast great again,' have an Egg McMuffin, and I'll see them at noon, maybe."
"Sorry sir, but the schedule says you've got a call with President Putin at noon."
"The Vlad-man! He's a good guy. A little short. But a good guy. And he agrees with me that Transformers should not be in the military."
"Sorry, sir?"
"My announcement last year that Transformers can no longer serve in the U.S. military," he explained. "Oh yeah, and neither can Alec Baldwin or Melissa McWhat's-her-head."
"Mr. President, I think you may mean transgender, not transformers."
"Whatever. I was watching the new Transformers movie last night on my Presidential iPad. Beautiful flick. Loved it. You seen it?"
"No, sir," I replied. "Um, sir, what about the Joint Chiefs?"
"Cancel it and tell…Mike…you know…my VP, to see me. I'll be right here thinking about stuff. Great stuff. Beautiful stuff."
"Yes sir."
"Hey, before you go, can you show me your gun again?"
I pulled it out and held it up so he could see it, again.
"Can I hold it?" he asked, "Pleeeeease."
"I'm sorry, Mr. President, I'm not permitted to surrender my firearm to anyone," I explained. "It's for your own protection."
He nodded.
"Yeah, okay. I get that."
___________________
The Joint Chiefs weren't happy. And Mike Pence was in for the shock of his life, even though the President had severely depleted his VP's capacity for shock. Mike Pence already felt shocked out. But he wasn't. Not quite.
When I slipped back into the presidential bedroom, or what we in the Secret Service call the POTUS Pad, the President was sitting up in bed wearing a fluffy terrycloth robe with the Presidential seal on one side and the Trump corporate logo on the other. He was leafing through Sports Illustrated. It was the same issue he'd been "reading" for several weeks already, the annual swimsuit edition.
"Ivanka could totally be in here. No problem. Done deal," he said, waving around the magazine.
"Yes sir," I replied. "Mr. President, Vice President Pence is here."
"Fan-friggin-tastic. It's about time. Send him in and maybe get me some kind of breakfast sandwich with sausage and cheese. Lots of cheese."
I headed to the White House kitchen as the Vice President slipped into the room.
"Hi Mike," I heard the President say. "Buckle your seatbelt."
_____________________
Three days later, you can see me on television, standing behind and to the left of the President, as he and Vice-President Pence stood at the lectern in the Rose Garden. My darting eyes shielded by sunglasses, I surveyed the gobsmacked faces of the press corps. There was no teleprompter and no speaking notes. Never a good sign.
"My fellow Americans, I took office 18 months ago when America was in serious trouble. It was a disaster. Since then so much beautiful stuff has happened, and all of it good for the country. I promised to win the election against that mean woman, Hillary Clinton, and I did. I promised to repeal and replace ObamaCare, and well, we were almost there before John McCain and those two witches killed it. But that's not my fault. I promised to create more jobs in this country, and just look how many different people have worked on my staff since then. Lots of jobs. The best jobs. I've stood up for America on the world stage. All the other leaders love me even more than that Justin Trudel guy. It's fantastic. I promised to make America great again, and I have.
"So my job is done here. I changed America and it'sgoing to continue to change. And I did it in a year and a half. So I want to give someone else the chance to ride this wave now that I've done the heavy lifting. So I'm stepping down as of, well as of right now, and my trusted Vice President, Mike Spence…"
"Pence!" the Vice President hissed from the corner of his smiling mouth just loudly enough for everyone in the Rose Garden to hear, and several who weren't.
"Pence, Mike Pence, will take over as President according to the Constitution of the United States. So, over to you, Mike. Don't you mess up all the good work I've done. Get that wall built. And give my best to the Boy Scouts because I won't be speaking at their big jumbalay thingy this year, you will be. And they love me. They really do. You should have seen them last year. It was beautiful. Okay folks, write whatever the hell you want, I am out of here as soon as Marine One is warmed up.
"God bless America and God bless me."