Leacock Medal Shortlist: Thrilled all over again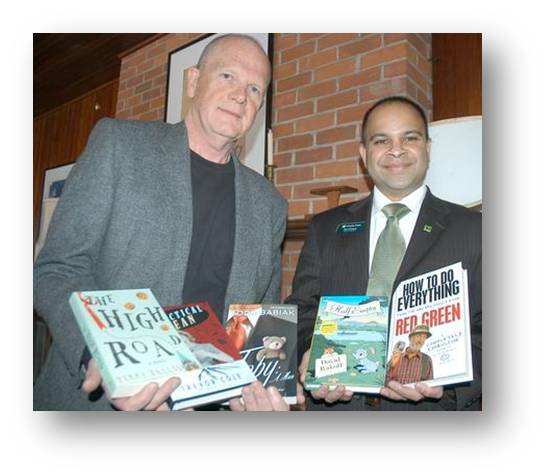 Yesterday, in an annual ritual freighted with wonderful memories for me, the five finalists for the 2011 Stephen Leacock Memorial Medal for Humour were unveiled in Leacock's beautiful home on the shores of Brewery Bay in Orillia. At about noon, in between meetings, I discovered via Twitter that The High Road was among the finalists. What an honour, what a thrill. The other authors shortlisted are very talented and very funny. Here's the list of the 2011 Leacock Medal finalists:
I've already read and enjoyed most of the novels Trevor and Todd have written, including Practical Jean and Toby: A Man. I've read an earlier book by David Rakoff called Fraud which I thought was great. While I haven't yet read Red, as it were, I've watched his show enough to know that he is one hilarious dude (although I'm not sure anyone has ever called Red Green "dude"). It is truly an honour to be among these accomplished Canadians.
You might think, having been blessed with a Leacock Medal already, (here's my post from March 27. 2008 when TBLP was shortlisted), that the thrill of being a finalist might be somewhat moderated the second time around. Uhmmmm…, no. Not a chance. While I kept the handsprings to a minimum when in public yesterday, rest assured, my calm exterior belied an internal excitement that still has my 'insides" vibrating nearly 24 hours later. You see, I truly believe that the Leacock Medal gave me the writer's life I now have and enjoy. When I'm invited to readings and festivals as "a writer," when I signed on with Beverley Slopen as my literary agent, when the legendary Doug Gibson at McClelland & Stewart published The Best Laid Plans, and last year The High Road, and when TBLP somehow made it through to be crowned the winner of this year's Canada Reads, I know that none of it would have happened without the Leacock Medal. It started it all.
I would think that very few authors can pinpoint a date, time, and place, when and where they felt like they'd actually become "a writer." I can. Wednesday, April 30th, 2008, 12:30 p.m., Swanmore Hall, Orillia, Ontario.
My congratulations to my fellow finalists and I look forward to meeting them at this year's luncheon on April 28th when the winner will be announced. Still walking on air here…