I'm back online after two weeks up north…
I've just returned from the family cottage on Georgian Bay where I've just spend two weeks offline with my family. It was wonderful despite an unusually high mosquito count. I read several books, swam, slept, ate, and watched movies at night with my two sons. It was strange being completely discounted for two weeks (although my BlackBerry worked sporadically if I stood at the highest point on our property and stuck my BB in the air like the Statue of Liberty's torch) but I managed. My in-laws arrived from Nova Scotia and we had a great visit. We saw some wildlife when we dropped off our recycling one day and my mother-in-law took this great shot.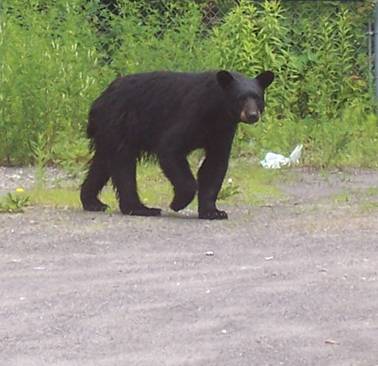 We also took them on a day trip to Orillia to visit the Stephen Leacock Museum. Here are a couple of shots showing me sitting in Leacock's library and the display in the Leacock Medal Room showcasing books and artifacts from the 61 year history of the Stephen Leacock Medal for Humour.
I'll be back to Orillia on July 25th to do a public reading at the Summer Leacock Festival. I have to read for 30 minutes so I'll need to decide which sections to present. My heart rate is slightly elevated already.
By the way, here's the great Hamilton Spectator article by Mark Leslie Lefebvre that I mentioned in an earlier post. Thanks Mark!
Stay tuned for more information about all the events I'll be doing in the fall to coincide with the release of the McClelland & Stewart edition of TBLP.
It's nice to be back…